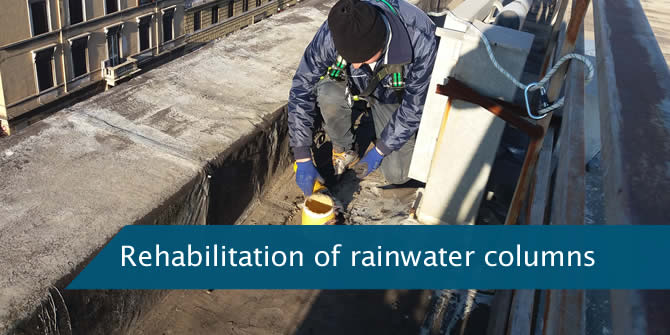 The non-destructive rehabilitation was performed using the CIPP relining technology (pipe lining system) on five rainwater columns located on the roof of the building G of Rome Termini Railway Station.
The rehabilitation of the rainwater columns was performed along their entire length using the visible exit on the terrace below, railway side, except for one where the "Open End" system was used. This last solution made it possible to operate by the only access available from the entrance.
The rehabilitation work was preceded by the removal of the couplings from each entrance and by the cleaning of the cast iron walls with a mechanical brush, because they were subject to dirt accumulations.
The rainwater columns were rehabilitated by using a polyester sheath with a thickness of 3.5 mm, coated on one side with a 200 micron polyurethane film and impregnated with a fast curing epoxy resin.
At the end of the work, the verification video inspection conducted on all rainwater columns showed the correct execution of the rehabilitation work.
Gallery