TO ELIMINATE IRON AND MANGANESE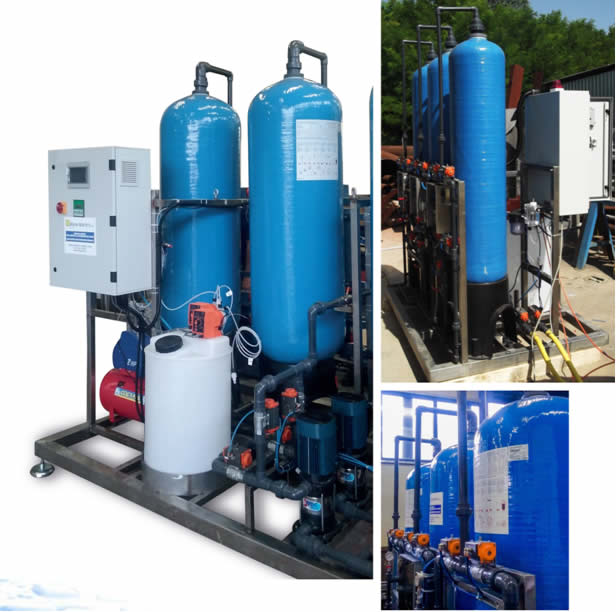 TECHNICAL DESCRIPTION
Filtration, oxidation and iron-removal piant allow for removal of iron and manganese from water, present in a non oxi- dized form.
Preliminary oxidation treatment, made with air or, more frequently, with sodium hypochiorite or other oxidizing agents (for exampie, potassium permanganate), aiiows the oxidation from Fe2+ to Fe3+ that precipitates as hydroxide. .
The removai of manganese is through a oxidation of soiubie manganese and it is through free chiorine by the cataiytic action performed by the minerai granuies in the fiiter bed.
At the bottom of fiiter, the acti/e carbon fiiter is normaiiy used to remove the exceeding residuai chiorine.
The choice of the fiitering bed, composed by a mixture of cataiytic acting minerais and of inert of a suitabie size, has been adopted in order to guarantee the contact time required for an efficient remo vai of iron and manganese.
Periodic fiiter washing (backwashing with water and finai washing) enabie the expuision of the retained impurities and clearing of the fUtering bed.
Hook Service manufactures standardized fiiters from 1 to 50 m3/h, with specific materiais according to demands of use and application.
The fiitration batteries (severa!paraiiei fiiters) can treat totai capacities exceeding 5000 m3/h.