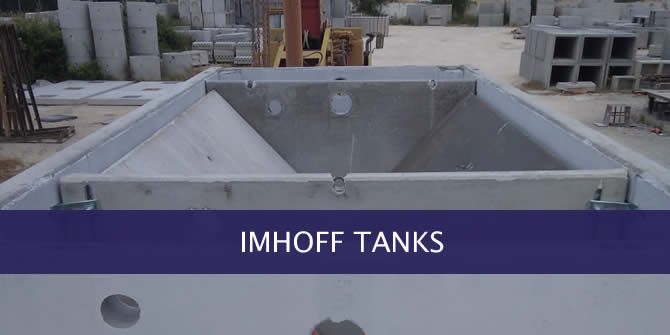 Imhoff tanks are used for the primary mechanical and biological treatment of wastewater from domestic or similar discharges.
The treatment objective is the clarification and partial stabilization of civil waste.
Their main advantage lies in their structure, thanks to which it is possible to combine mechanical treatment (sedimentation) with biological treatment (cold anaerobic digestion).
Imhoff tanks are in fact composed of two separate compartments for sewage and sludge, superimposed and hydraulically communicating:
– Upper compartment – Sedimenter
– Lower compartment – Digester
In the upper compartment the sedimentation phase takes place, during which the sedimentable solids sediment to the bottom of the compartment by gravity.
The sludge, meanwhile, is conveyed to the lower compartment to undergo cold anaerobic digestion treatment.
The clarified liquid thus obtained is significantly less loaded with pollutants according to UNI EN 12566-1-2004 standards and can therefore be disposed of according to current regulations or, if necessary or required, be destined to a further phase of secondary treatment.
Gallery