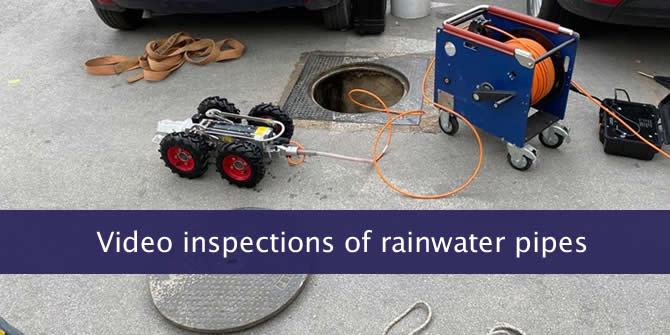 Video inspection of rainwater pipe.
The intervention of video inspection of pipes and ducts is aimed at verifying the general state and the functionality of the pipes allowing, in case of detection of breakage or subsidence signs, to intervene with targeted restoration works.
The data provided by the inspection are also a valuable reference point to plan the regular maintenance of the pipeline.
VIDEO INSPECTION OF RAINWATER PIPE AT THE BISCEGLIE PORT (BAT)
An example of video inspection is the one performed on the rainwater pipeline at the Port of Bisceglie (BAT).
In this case, the conduit and white water sewers to be inspected had a conformation such as to require the use of several and special detection tools: the technical team has therefore made use of the motorized inspection camera with laser pointer and the telescopic camera.
The motorized inspection camera, thanks to its two high-resolution cameras and remote control, allowed to record with extreme precision the configuration, distances and slopes of the pipeline, reaching where the human eye cannot be effective.
The periscope camera has completed and precise the inspection avoiding the need to proceed with an inaccurate "man descent".
The use of this instrumentation has ensured the complete intervention to be performed in only three hours, greatly reducing costs and inconvenience associated with this type of operation.
Gallery