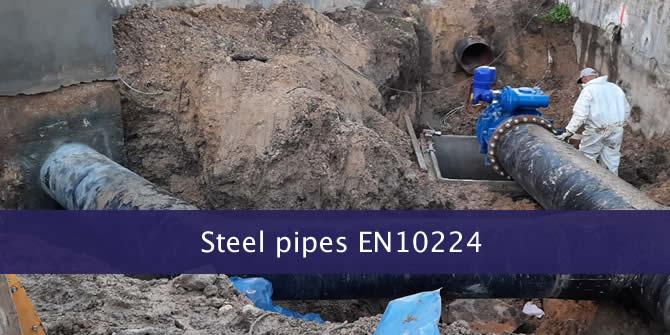 Supply of DN600 and DN700 steel pipes, certified according to EN10224, for the wastewater treatment plant of Barletta.
In particular, the pipes supplied had an external coating in triple layer polyethylene and an internal coating in epoxy paint, with a thickness of 6,3mm for DN600 and 7,1mm for DN700.
STEEL PIPES FOR WATER AND AQUEOUS SUBSTANCES
Water pipes are manufactured with carbon steel characterized by high quality performance, both for structural homogeneity and for physical-mechanical characteristics.
The steel pipes for the transport of water and other aqueous liquids are, indeed, certified according to EN10224 (ex UNI 6363/84) so that high quality standards are met during the whole process: from production to handling, storage, packaging and shipping.
These ducts are produced by longitudinal or helical welding and have different technical characteristics depending on the combination of coatings arranged.
Depending on the situation and the specific needs of the customer, it is therefore necessary to define the most suitable types of external and internal coating.
Gallery