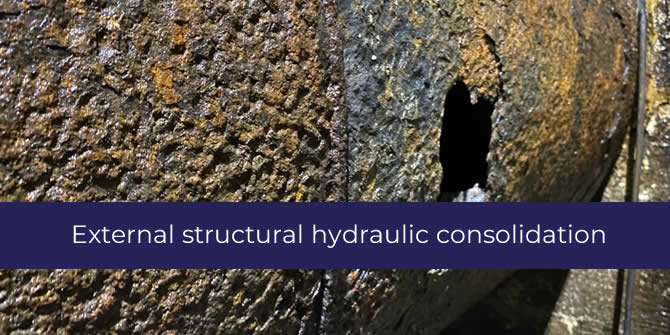 External hydraulic/structural consolidation of a DN 1000 steel pipe at the Cuma Purification Plant, Naples.
The pipeline was in an extremely advanced state of corrosion, with significant cracks, holes and large areas completely missing.
The operation therefore involved first the damaged areas, with punctual reconstruction work, and then proceeded with the total consolidation of the pipeline section.
For the repair and reinforcement of the pipeline was used a liquid mixture of epoxy resin, polymers, aliphatic polyamines with the addition of Kevlar fibers combined with carbon fibers.
Additional mechanical reinforcement was performed by banding the pipeline with bidirectional glass fibers, pre-impregnated in a controlled environment.
Repair and external hydraulic reinforcement: a single intervention to stop even advanced oxidation phenomena, repair lesions and localized leaks, mechanically reinforce entire pipeline to avoid failures and inefficiencies.
Gallery