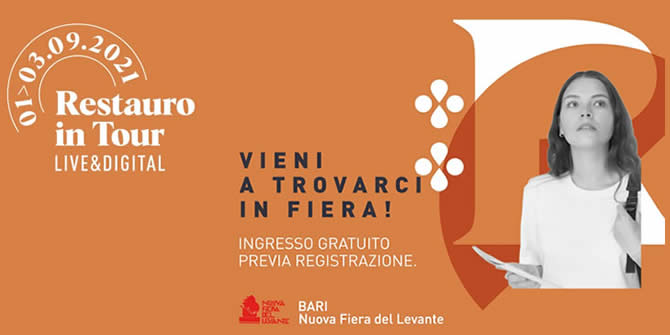 International "Restauro in tour" Restoration show: our innovative technologies for building and restoration go to the fair!
From 1 to 3 September 2021 come and visit us at the International Exhibition of Restoration, at the New Fiera del Levante in Bari, or live stream the event.
An unmissable opportunity to network with companies and institutions, explore new opportunities and stay up-to-date on the latest industry news.
OUR SERVICES FOR CONSTRUCTION AND RESTORATION
Our services to support construction and restoration include:
– Renovation of downpipes and drainage columns with no-dig technology (Relining): internal, non-invasive and final reconstruction of pipes of all diameters
– Leak and infiltration detection: for underground water and gas pipes, tanks and swimming pools.Fast and without masonry work
– Pipeline video inspection: rapid and completely non-invasive detection of cracks, alterations and signs of corrosion
– Insulation with polyurethane foam: insulation thin, fast, monolithic and extremely resistant
– Waterproofing with hot-applied polyurea: elastic, resistant and durable results, without joints or overlaps
HOW TO PARTICIPATE TO THE EXHIBITION
The participation to the International "Restauro in tour" Restoration show is free!
During the event also follow our social channels for informative materials and updates!
Gallery
Idromet Service is a reference point for companies, public authorities and private citizens providing innovative and customized solutions and comprehensive support during every step of the execution process.

Business news, best practices, informative material, company updates…
Subscribe to our newsletter to receive up-to-date information on what you're interested in
SUBSCRIBE NOW