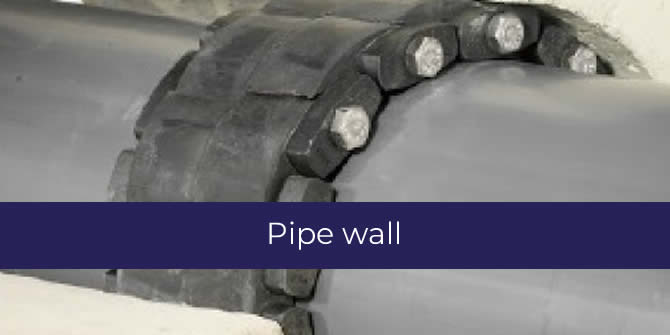 For the sealing of smooth pipes in wall crossings, an innovative solution is represented by the PIPE WALL JOINT.
This modular system, composed of flexible meshes joined by stainless steel screws, allows the sealing between the pipe and the wall directly on the wall opening.
The installation is rapid and simple and allows to customize the structure obtaining the best adherence in every application context.
The pipe wall joint is made of EPDM rubber, with polyamide compression plates, AISI 316 stainless steel bolts and is suitable for any type of smooth pipe.
APPLICATION FIELDS
Due to its versatility, the product is indicated in various fields, including:
– inlets/outlets from tanks
– electrical insulation of pipes
– protection against the propagation of noise and vibrations
– marine environment
Since 1985 Idromet Sider provides an extensive selection of innovative and certified high-quality products and solutions for aqueducts, gas pipelines, sewerages, water treatment plants and industrial plants. For public authorities, businesses and the private sector.
With the Idromet Service division we also realize innovative and highly specialized services to offer a valuable reference point to support our clients.

Business news, best practices, informative material, company updates…
Subscribe to our newsletter to receive up-to-date information on what you're interested in
SUBSCRIBE NOW